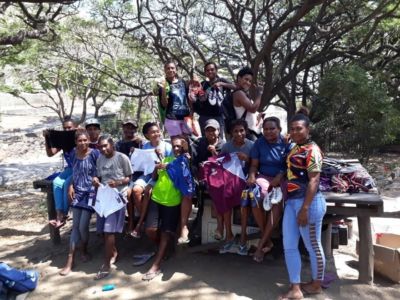 Papua New Guinea Orchids representative and 2019 Sharks Harvey Norman Women's Premiership player Tahina Booth has been the driving force behind the Grass Skirt Project, an organisation empowering women in PNG communities.
Founded by Booth, Grass Skirt Project has evolved from an organisation collecting and distributing pre-loved sporting equipment to disadvantaged communities in PNG into an important voice for women's empowerment and a key player in community building initiatives.
With core objectives being the promotion of gender equality, elimination of gender-based violence, empowerment of women and girls and the building of stronger, more resilient communities around and through participation in sport, the Grass Skirt Project partner with local organisations and engage local ambassadors in supporting PNG sporting organisations through strategic partnerships.
And while they have grown beyond being just a collector, distributor and provider of sporting equipment, a recent campaign organised through the Sharks and the Sharks Leagues Club will ensure young women in need have the equipment and opportunity to pursue their sporting goals.
Inviting donations to be dropped off at a collection zone at the Sharks Leagues Club, 200 pairs of football boots, 1,600 sports jerseys and shorts, 60 sports bras and a number of footballs will now find a happy home in communities in need within PNG.
Booth was appreciative of the generosity of Sharks members, fans and the Sutherland Shire community, with the majority of the donations coming from local sports clubs, notably Heathcote Soccer Club, who were extremely generous in supplying old playing apparel.
"Thank you, Cronulla Sharks and the local community, for supporting women and grassroots rugby league development in PNG. Grass Skirt Project uses sport to improve health and wellness," Booth said.
The items collected have been packaged up and will be sent to PNG courtesy of Sharks 2019 NRL shorts partners Whale Logistics.
Grass Skirt Foundation and the Sharks also have activities planned within schools and the local communities in February of 2020 ahead of the Sharks v Bulldogs NRL trial match scheduled to be played in Port Moresby.
For more on the Grass Skirt Project and the work they are doing in PNG, go to the following link – http://www.grassskirtproject.org/