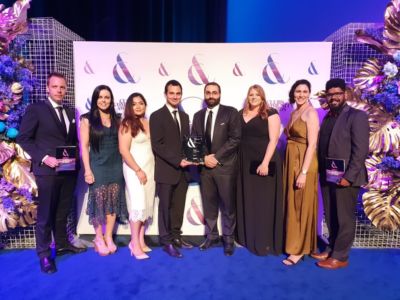 The Sharks and Sharks Leagues Club have been acknowledged with a significant community award for the great work carried out alongside Sutherland Shire Family Services (SSFS) in promoting respectful relationships through the Love Bites program.
Conducted in local schools and supported by Sharks Have Heart in 2019, the Club and Love Bites were the recipients of a Highly Commended award in the Education category at the Clubs NSW Community awards night.
Ashleigh Daines CEO of SSFS, Amber Schacht, Love Bites the program coordinator, Sharks Leagues Club CEO Elie Bassil and Sharks Have Heart General Manager George Nour attended the night with other Leagues Club staff.
Developed by NAPCAN (National Association for Prevention of Child abuse and Neglect), the Love Bites program, fitting comfortably within the Sharks Have Heart social impact pillar, has consistently reached over 1,200 Year 10 students each year since it was launched in 2011.
Sharks Have Heart, through their platinum partner Capital Bluestone and the Sharks Leagues Club, has helped to fund a part time coordinator for the acclaimed school-based domestic and family violence, sexual assault and consent awareness education program.
Love Bites works to deconstruct the myths that exist in the local community about domestic violence and sexual assault, with the program refreshed in line with community expectations.
The new program provides important messaging and education that is essential to helping young people grow and have respectful relationships.
The Sharks Leagues Club are proud supporters of the program and believe Love Bites deals with real issues within society that need to be addressed, with the benefit being it is a preventative educational program that is aimed at making a difference to future generations.
Held at the International Convention Centre in Darling Harbour, Sydney and compared by radio and television personality Ben Fordham, with Clubs NSW Chairman George Peponis delivering the welcome address, the night celebrated and recognised the many stories of community contribution from registered Clubs across NSW.
The awards cover nine categories, representing the Clubs NSW core community values, capturing the relationships clubs have with individuals, local groups and with other clubs.
In addition to their award for Love Bites, the Sharks Leagues Club was also a finalist in the category of Disability, Welfare and Social Inclusion for their support and promotion of the Deadly Choices program.
In all close to 100 Clubs submitted entries on the night.