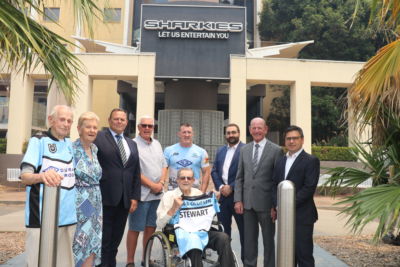 CEO Message – December 2019
December 15 marks the end of one era, with the closure of the current Sharks Leagues Club building, and the start of another as construction on the major upgrade is set to begin. Richard Munro updates Sharks members and fans on the latest happenings in his CEO's Message for December.
The Sharks are approaching the end of an era with the Leagues Club closure taking place on December 15.
I'm sure all of you have life long memories created inside the walls of the Sharks Leagues Club, from celebrating big wins, our Grand Final victory of 2016 being probably the biggest party of all, to supporting the Sharks and enjoying time with family, friends and other members and fans.
While sad to see the end of an era, we are really excited about work beginning on the new, upgraded club.  It is not only going to give us all a world class venue, but there is no doubt it will be one of the best Clubs in the NRL.
We are confident it will set the Sharks up for long term financial success.
But before the construction work begins, why not take the opportunity to have a drink or a meal and catch up with friends in the famous venue before the doors close.
The old club has given us many memorable moments, so please enjoy it one last time before our December 15 shut down.
Then as work and the Club transformation begins here at our Woolooware base, we hope to soon finalise our amalgamation with the Kareela Golf Club, as we look to give Sharks members a new home, both for the next few years and into the future.
While there is plenty of change going on from a Leagues Club perspective, on football matters its business as usual. The team is training strongly ahead of their Christmas break, with the 2020 season to be upon us before we know it.
Reports are that training has been tough, which was emphasised by our Sharks Media video of the boys slogging up and down the Wanda sandhills at dawn last Saturday morning and Coach John Morris is thrilled with the progress of his squad.
In some extremely positive news, a very important member of our NRL team in Chad Townsend signed a contract extension, we welcome the experienced Cameron King to our club in a major boost to our depth at the hooker position and Jesse Ramien has looked right at home since returning to the Sharks for the 2020 season.
Also, a quick reminder that memberships and corporate packages are on sale for the 2020 season.
We have been overwhelmed by the response to date considering the switch to Netstrata Stadium in Kogarah, with the best seats and corporate hospitality options selling fast.
It's not PointsBet Stadium, however those who took the chance to gain a sneak peak of facilities recently will agree that Netstrata is an outstanding venue and one we are set to turn 'black, white and blue' in 2020.
As for our '12th' home game for next year, scheduled for May 16 against the Cowboys at the Sunshine Coast Stadium, we will soon have travel packages available for members and fans.
More details will be available soon and we will send out member communication where you can express your interest in joining us for what will be an exciting weekend.
Come in and enjoy your Leagues Club before it closes down on December 15 and if you haven't already secure your Sharks membership for the 2020 season.
Thanks for your continued support and we hope all members and fans enjoy a merry Christmas as we head into an exciting new era for the Sharks in the New Year.
Regards,
Richard Munro
Photo caption – lead photograph 
From left, Ben Lee (long term member), Robyn Jacques (long term member), Richard Munro (Current Sharks CEO), Barry Pierce (former Sharks Chairman), Paul Gallen, Sitting – Jack Stewart (19-year Sharks President – opened the club in 1977), Elie Bassil (Leagues Club General Manager), Don Anderson (CEO current Sharks major sponsor Ace Gutters Durakote Roofing and a former Sharks Board member), Dino Mezzatesta (current Sharks Chairman)