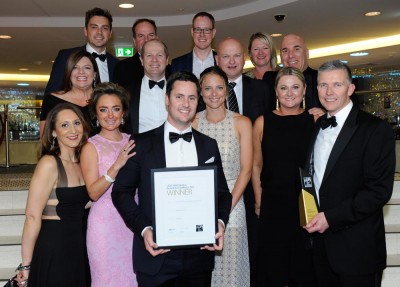 The Woolooware Bay Town Centre, now taking shape on the land adjacent to Remondis Stadium, has been awarded the coveted Concept Design Award at the Urban Development Institute of Australia (UDIA) Awards For Excellence, the second such award the project has received.
The awards recognise innovative and market leading developments right across NSW, with the Woolooware Bay project beating out over 100 entrants in being afforded the prestigious honour.
Julie Bindon, Chief Judge on the UDIA judging panel said; "The Woolooware Bay masterplan represents a very clever and sensitive integration of various project elements with a regeneration and upgrading of a previously inaccessible foreshore.
"The judges were impressed with the range of housing provision (including 30 per cent accessible), integrated all abilities playground, 66 per cent open space, and the extent to which the broader community has been integrated and influenced the evolution and refinement of the masterplan.
"The early provision of public transport, sporting facilities and community development opportunities is impressive and the retail facilities will fill a major gap in local services. The judges felt the success of these initiatives is encouragingly reflected in the achievement of 97 per cent local sales and 30 per cent first home buyers." Bindon said.
The joint venture partner of the Sharks, the Bluestone project team has delivered an evolving master plan which has set it apart from any other developments in the state in terms of quality of design, community spaces provided and dedication to delivering against the needs of a growing community.
Recognition by a peak industry body such as the UDIA is a wonderful achievement for Bluestone, the Shire and for the wider community who have become involved with the project and supported it in numerous ways.
Also recently as part of a genuine commitment to community, Bluestone and Sharks came together to host the Broaden Your Horizons Career Expo.
Attended by over 600 students from four local schools, the event was designed to connect young people to conversations with "real people in real roles" across a wide range of industries.
A relaxed and fun environment was created within which students could ask questions and industry experts could share their expertise and experience.
Over 25 stalls were set up, hosting representatives from industries such as law, medicine, property, sports management, photography, creative arts and communications as well as a broad representation from universities and TAFE to help guide students on the different education pathways.
The feedback on the event was overwhelmingly positive from students, teachers and parents as well as from the industry and education experts who manned stalls and spoke to students on the day, with the Expo is set to become an annual event.
For a video presentation from the Careers Expo, click here to view.