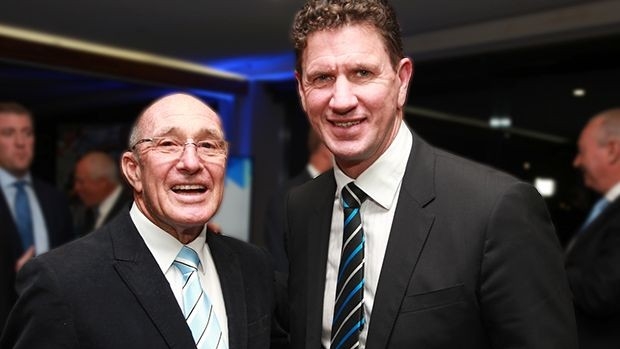 On a night which reinforced the stability at the Sharks at the present time, Chairman Damian Keogh presided over the club's Annual General Meeting at Sharks Leagues. Keogh spoke with positivity about the current climate, the past 12 months and the Sharks immediate future, with the crowd in attendance happy to endorse the work of the Board of Directions and the direction in which the club is headed.
While a new Director in Andrew McVeigh was elected and current Director Dane Sorenson returned in a vote of the members, the highlight of the evening was the induction of former administrator and Sharks CEO Peter Gow, along with 2016 Club Captain Paul Gallen as Sharks Life Members.
Gow, welcomed as a Life Member of both the Sharks Leagues and Football Clubs, was humble in accepting the honour, vowing to continue his support of the club he steered through some troubled financial times during the 1990's.
Since stepping aside in an official capacity the Sharks have continued to use Gow's experience and expertise and to lean on him for advice and guidance on a variety of steering committees.
As for Gallen, while he wasn't able to be present on the night as he prepares for his return to the field this weekend against the Tigers, his nomination for life membership as proposed by Director Darren McConnell was unanimously endorsed by the members on the night.
McConnell in speaking on behalf of Gallen's nomination cited not only his 260 first grade games at the club, many of those as NRL captain, but also the enormous amount of community work he takes part in off the field.
Gallen will be recognised and presented with his life membership at the next home game when the Sharks host the Titans on April 10.
In regards to the new Board appointment, Keogh was high in his praise for new addition McVeigh who even before his election to the board has consulted on a number of business matters.
With a background in senior leadership roles, McVeigh has already advised the club across a wide range of matters, including finance, governance risk and property development. McVeigh currently holds the position of Chief Financial Officer of the Brookfield Property Group, a company with an $8.5Bn property portfolio.
Former Sharks and Kiwi international Sorenson was also wholeheartedly endorsed by a vote of the membership, with Keogh thanking Lynn Gannon for her Board nomination and for the fact that once she became aware of McVeigh's extensive experience declined to heavily campaign for a board position.
Both the Leagues and Football Club AGM's were conducted on the night with business arising discussed. All members left satisfied that any concerns they may have held prior to the meeting were taken on board and were to be addressed.