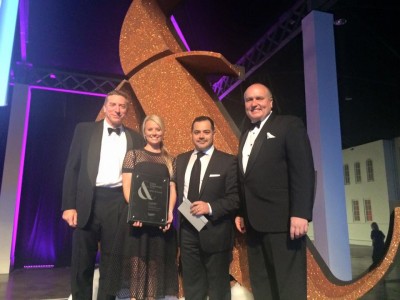 The Cronulla Sharks Leagues Club have been recognised for their fantastic community work at the recent Clubs NSW 2016 Club and Community Awards, receiving a First Prize and a Highly Commended Award on the night.
The Leagues Club was awarded First Prize in the Emergency Services Category for the tireless work performed during and after the tornado which ripped through local suburb Kurnell.
The Club also received a Highly Commended Award in the Education Category for hosting and delivering the 2015 Capital Bluestone and Sharks Group Career Expo held in partnership with Capital Bluestone.
Cronulla Sharks Group CEO Lyall Gorman said that the awards are a testament to the contribution and difference our Club seeks to make on a daily basis.
"They are something we are very proud of and I know all of our staff feel incredibly honoured and humbled to be recognised for the efforts they undertake to support our community and the people within it," Gorman said.
"We are blessed to be in the position to be able to give back to our region on an ongoing basis as some small token of appreciation for the incredible support the amazing people within it give us.
"We pride ourselves on being more than just a football club and I truly believe that more than anything these wonderful awards reflect that fully."
The Emergency Services Award which recognises leadership and resourcefulness of Clubs in times of community need such as bushfires, floods, other major disasters and disaster recovery, was awarded for the work carried out during the days following the Kurnell Tornado.
During this time, the Club acted as a refuge, providing a meeting place and shelter as well as meals and refreshments to the displaced residents and emergency services staff.
The Club hosted up to 300 SES volunteers and services personnel for lunch and dinner, with the support efforts carrying on for several days post the storm along with delivering food and supplies to the area which were donated by generous local businesses.
The Education Award on the other hand recognises educational and vocational advances that enhance the lives of those living in the community.
The Capital Bluestone and Sharks Group Career Expo was designed to give local youth the opportunity to have real conversations about their future and meet "real people in real roles".
Held at the Club in 2015, the career expo hosted 600 students from four local Sutherland Shire high schools and provided students with a wealth of information to take away and apply heading into the workplace.
Mr Gorman was quick to praise the partnership between Capital Bluestone and the Sharks Group along with the work done to contribute to the community.
"The partnership between Capital Bluestone and our Club exemplifies what can be achieved in a true collaborative partnership.
"The boys and girls of the Sutherland Shire are the future of our region and it is a privilege to be able to play some small role in shaping that future.
"Providing forums such as the career expo provide a remarkable opportunity to do so."