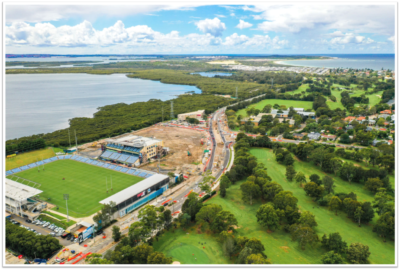 While the doors to our Leagues Club are closed as renovations continue to forge ahead and the current health crisis has meant there has been a forced shut down of what will soon officially be our second Sharks club at Kareela golf, that doesn't mean we have forgotten about you, our valued Sharks Members.
We hope that you are doing as well as can be expected during this unprecedented time, you are looking after yourselves and those closest to you as we all try to get through this current situation.
Unfortunately, we can't offer you our club, but we can say we are thinking of all our members and look forward to welcoming you back, whether that is at Kareela in the not-too-distant future or once the doors to our new Leagues Club open when the building works are complete.
You may have driven past the Leagues Club site, however for those who haven't, included are a couple of images displaying where we are currently at. The developers are pleased with the progress being made and remain confident of delivering an exciting new precinct, including a state-of-the-art Leagues Club facility, early in 2022.
Over the coming weeks we will try calling as many members as we can, just as a quick check up to see how you are and to answer any enquiries you might have as to our Kareela amalgamation, the Leagues Club development and our future plans.
On the amalgamation with Sporties@Kareela golf, we can assure members it is still on the way, is going through the approval processes and we hope to have it finalised sooner, rather than later.
While on Kareela and for those who have enjoyed the Cove Bar & Grill prior to the shut down and for others looking to sample the offerings and who might like to treat mum on her special day, the popular Club bistro is opening for a Mother's Day takeaway special.
Available Saturday May 9 or Sunday, May 10, call or text 0414 552 595 before 6.00pm on Friday to place an order, choose a pick-up time or for those inside a 5km radius to arrange free delivery on orders over $40.
Menu includes a hot and cold Seafood Platter for 2 for $95, adding half a Lobster Mornay for an extra $20, or maybe a Whole Lobster Mornay or Prawn Linguini Pasta. Every purchase includes a gift for mum.
The Cove Bar & Grill will then be open for takeaway on Friday's, Saturday's and Sunday's beginning May 15.
Another purpose of this communication was to also let you know that all expired memberships have been extended through until June 31 – free of charge.
And for those who may have dropped off mailing lists and are receiving communications second hand, please update your details on the form provided as we endeavour to remain in touch during the construction phase and the Covid-19 shut-down period.
CLICK HERE:
https://www.tfaforms.com/4813696
Stay safe, stay healthy and we hope to be seeing you again very soon.