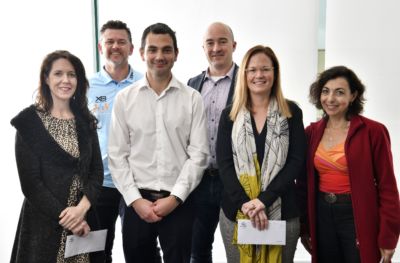 Club Grants supporting community initiatives
The Sharks were one of 10 local area clubs to support local community organisations and initiatives as a part of the NSW Government and ClubsNSW ClubGrants program
The Sharks Leagues Club, through their community arm Sharks Have Heart, have pledged their continued support for several worthy community programs and initiatives as a part of the NSW Government and ClubsNSW ClubGRANTS program.
The Sharks were one of 10 local area establishments to pledge on-going support, with over $250,000 donated between the participating clubs this year.
The local clubs included Club Central Menai, Club Cronulla, Club Engadine, Club on East (Sutherland United Services Club), Cronulla RSL, Diggers Miranda RSL, Engadine Bowling Club, Kareela Golf Club, Taren Point Bowling Club and Sharks Leagues Club.
ClubGRANTS is an initiative which provides funding for community development projects and services that have a direct impact on the Sutherland Shire community.
The funding priorities for 2019 included programs that target the problematic use of alcohol and other drugs, women and children escaping domestic violence, youth engagement, programs providing support for people who are socially isolated and / or experiencing financial crisis, disability Services (including mental health projects) and services for older people, including Veteran Welfare.
The clubs that turn over a designated amount from gaming revenue, donate a percentage of turnover to local community organisations and initiatives.
Over $250,000 was donated this year across the participating clubs, with the Sharks contributing over $55,000 in total across five worthy charities and community initiatives
In 2019 the Sharks will continue their assistance of the Make Bullying History Program, Love Bites and Game On, while this year also supporting the Youth InSearch Foundation and Southern Community Welfare.
One of the new programs now to be enhanced with Sharks ClubGrants support, the Southern Community Welfare (SCW), over the past two decades has built a strong reputation for delivering effective social and relational services and programs.
Their 'Flourishing strategic plan builds on the organisation's strengths which includes constant innovation, accessibility, commitment to excellence and a grass roots approach to community need.
Southern Community Welfare brings hope and healing by helping people overcome challenges through a range of clinical and Support Services aimed at providing structure and support for meaningful change.
Operating out of a number of premises, Southern Community Welfare services strive to be accessible both financially and practically, and utilise evidence based methodologies.
The Sutherland Shire unfortunately has one of the highest incidents of domestic and family violence across the state of NSW.
As for the Youth InSearch Foundation, their 'Changing Rooms' project in partnership with and facilitated by the NSWRL, is a peer support group tied to Junior Rugby League training that de-stigmatizes mental
health, empowering young players to seek support from their teams,coaches and community supports.
'Changing Rooms' is designed to educate and provide support to the Junior Rugby League community (14-20yrs) in helping them to cope with life challenges off the field when they aren't dealing with some situations in a positive manner.
The project will be an ongoing offering to all JRL clubs the Sutherland Shire to support young players dealing with mental health, illness, injury, social inclusion, disabilities and other hardships.
Sharks Have Heart partner with Platinum Partner Capital in supporting key community programs and initiatives.