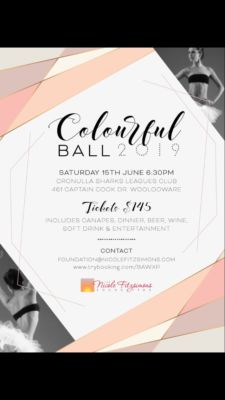 In Loving Memory of Nicole Fitzsimons
SATURDAY 15TH JUNE* our Colourful Ball Fundraiser is back!!! Join us for a night of FUN at Sharkies Leagues Club as we celebrate all we're achieving through Nicole's legacy whilst raising funds to continue our important work of saving lives in her honour.
Whether you knew Nicole or not, or whether you know our family personally or not, if you want to show your support for our cause – we'd LOVE to have you there! Round up a bunch of friends who love a good time and join us for a night of special performances, silent auctions, raffles and most especially busting out your favourite moves on the dance floor with us all night long!
If you've been to our Ball's before, you know they're an absolute BLAST. And if you haven't, you've seriously gotta find it out for yourself – you'll party your heart out, and we know Nicker's wouldn't want it any other way!!!
Jump on the link to purchase your tix: www.trybooking.com/BAWXP