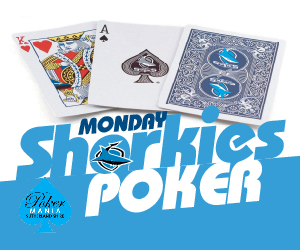 Its a 50K stack FREEZEOUT game, with a $30 entry fee. $1,500 PRIZEPOOL to be won!
Every week there is a JACKPOT. Win the comp, and then draw your final table seat number, and win the jackpot. You are a one in nine chance to win this.
Rego: open from 6pm | Game starts : 7pm | Late rego open until 8.20pm
Early bird chips for 5K(rego by 6.50pm) for these. There is also a spend card at the club.
The club has very generously offered a "Special" Membership too. For just $5 you can join Sharkies, and they will put $5 worth of points on your card. So effectively, you get to join for FREE.
Membership cards must be shown at registration.
Call Marty on 0414 216 397 for more information.