An exclusive tiered Rewards Program designed to reward our members who correctly use their card for transactions within the Club. With so many great benefits, there has never been a better time to become a Sharks Leagues Club member.
HOW DO I EARN POINTS?
You can start earning rewards points as soon as you join and you will continue to earn points when you use your membership card correctly for dining*, show tickets,  merchandise and more. You can also earn points by simply coming to the Club and swiping your card at our reward kiosk.
*Earn and spend of points not available at the King Wan Restaurant.
WHICH LEVEL AM I?
To find out your tier status simply swipe your membership card at the reward kiosk or ask one of our friendly staff.
WHAT DO YOU NEED TO KNOW?
Sharks Advantage has 5 different levels. These levels are based on the number of points you have earned. The more points you earn, the higher the level and the more rewards you will receive. The five levels are Diamond, Platinum, Gold, Silver and Blue.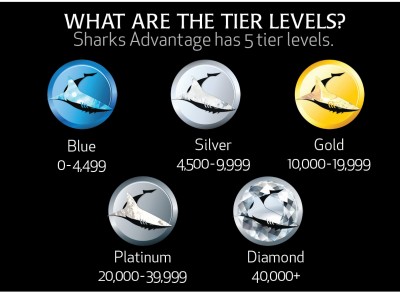 Participants will be reviewed each month and you can move up a tier when this is done. However you can only be moved down a level once every six months. Assessment shall be made on rate of points (excluding points via promotions and weekly bonus points).
Those eligible automatically receive all the benefits unless the member opts out. One point equals 1 cent. For example 2000 points equals $20 and 1050 equals $10.50.
BENEFITS AND REWARDS FOR CLUB MEMBERS
The more points you earn the more fantastic benefits you will receive.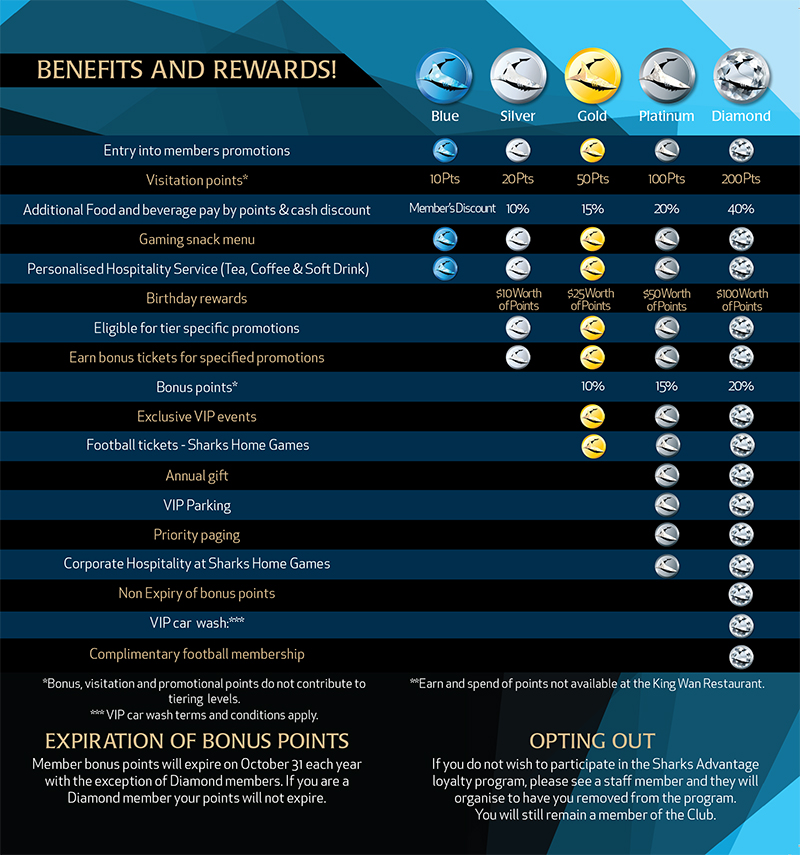 WHERE CAN I USE MY POINTS?
Points can be redeemed at any of the Club's bars, bistro and café by simply handing over your card OR you can redeem points for Sharks EFTPOS cards at the reward kiosk.