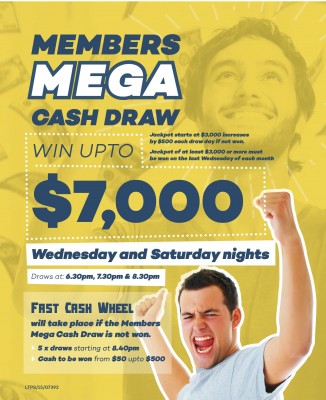 Mega Cash Draw
How to enter
A members name will be drawn and must present themselves within 4 minutes to win. If not won will increase by $500 each draw day. On the last Wednesday of each month,  the accumulated jackpot must be won. Members must swipe their card at the kiosk (5pm-8pm) to be entered into the draw. The jackpot will be divided into 5 parts and equally shared between 5 winners. (The original $3,000 starting balance is not included in this draw).
Draw Times
Wednesday and Saturdays
6.30pm, 7.30pm, 8.30pm
Fast Cash Wheel
After each session of the Mega Cash Draw if the jackpot is not won a Fast Cash Wheel will be held.
How to enter
Swipe your members card at the kiosk from 5pm-8pm to receive your entry. Cash prizes from $50 to $500.
Draw Times
8.40pm, 8.45pm, 8.50pm, 8.55pm and 9.00pm.
(Not held on jackpots nights last Wednesday of each month).
Terms & conditions available at Club Reception. Promotion authorised under NSW Permit No:LTPM/16/00040.